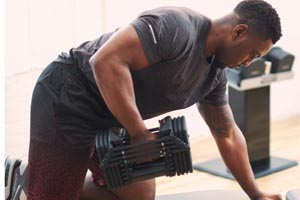 PowerBlock offers an incredible line of adjustable dumbbells, including the Power Block Pro EXP Adjustable Dumbbells.
What makes PowerBlock Adjustable Dumbbells perfect for your home gym, is rather than filling a room with a full set of 8 pairs of dumbbells, you chould choose a set of PowerBlock Pro EXP Stage 1 Set (5-50lbs) Adjustable Dumbbells!
With PowerBlock Adjustable Dumbbells, you get the effectiveness of a full set of dumbbells, all in a single compact set. You're able to pack lots of exercise power into a very small space! The Pro EXP Stage 1 Set (5-50lbs) allows you to select different weights for each dumbbell by inserting the in into the weight stack. To change the weight, just move the selector pin into the appropriate weight slot. Create dumbbells that range in weight from 5 to 50 lbs – replacing 16 pairs of conventional dumbbells!
PowerBlocks are perfectly balanced, and designed for any exercise you'd normally use dumbbells for. And, the Pro EXP Stage 1 set is the perfect starter set – if you find you need additional weight beyond the Stage 1 set, you can expand the Pro EXP Adjustable Dumbbells with the optional Pro EXP Pro EXP Stage 2 (50-70lb) Expansion Kit, or the optional Stage 3 (70-90 lb) Expansion Kit.
Stop into any of Fitness 4 Home Superstore's three Phoenix-area locations, and take a look at our full selection of PowerBlock Adjustable Dumbbells!