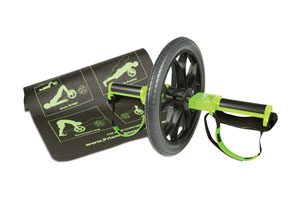 Fitness 4 Home Superstore is proud to announce we're now carrying Prism Fitness Group's Smart Core Wheel. If you're looking for that perfect training accessory. the Prism Fitness Group Smart Core Wheel delivers the best core workout for the entire core (not just abs!) with one tool. Strap your feet or grip the handles for a great core-focused workout.
With Prism's Core Wheel, you just strap to your feet or grip with your hand,s and get ready for a great ab-focused workout. The Smart Core Wheel comes with its own floor mat, which not only makes your workout more comfortable to your hands and knees, it also provides you with an easy workout reference guide. The combined handle and foot pedals allow you to grip the handle for traditional prone ab wheel exercises, or rotate the handle to utilize the foot pedal for even more full-body exercises.
Perfect for home use, especially if you're limited on storage space in your home workout area. Storage for the Smart Core Wheel is extremely simple – simply fold down the handles/pedals and store on any shelf – it can stand upright on its own without rolling away. Fits easily into a travel bag.
Stop into any of Fitness 4 Home Superstore's three Phoenix-area locations, and experience the Smart Core Wheel.