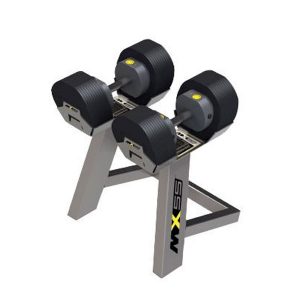 One of the downsides of a home gym is space. Trying to find room for all your equipment can be challenging, especially when it comes to dumbbells. The solution? Try a set of adjustable dumbbells. You gain the benefit of having a full set of dumbbells, but with the space saving advantage of a single set of dumbbells, along with an overall lower cost compared to purchasing a full set of regular dumbbells plus storage racks.
And, there's a new adjustable dumbbell that is now available at Fitness 4 Home Superstore – MX55 Selectorized Dumbbells by MX Select.
The MX55 selectorized dumbbells are the ultimate 'must have' for the home gym. These adjustable dumbbells offer pro-style features you would expect from gym quality fixed dumbbells, including safety, durability and rapid weight selection.
The unique rack and pinion design of the MX55 is much easier to use than traditional selectorized dumbbells, offering a stylish yet compact design that looks and feels exactly like the free weight systems used in commercial gyms. Move from 10-55 lbs at the click of a dial to get a full body workout with seamless weight transition between reps. The set's sleek form and unique safety features will motivate you to push your limits even further. Experience it for yourself – build a better, stronger, leaner body with an MX55 progressive lifting program.
The pro-style quality of the MX55 handset enables you to hit every major muscle group at your own convenience, in a compact amount of space.
Key Features
Steel craftsmanship – looks, feels and functions just like a pro-style dumbbell
Perfect balance – length of weight shortens evenly each side, as less weight is selected
Quiet smooth operation – changing weight does not involve handling the weight
No protruding knobs or ends – selector dials recess into collars after weight selection
Open handle design – biomechanical and ergonomic precision
Unique rack and pinion design – securely locks weight plates into an immovable position
Exceptional value – price per pound is close to the average for most models
Easy to handle – can be removed and replaced at 180 degrees
Product Highlights
10-55 lbs in 5lb increments (4.5 – 24.9 kg in 2.25 kg)
Equals the performance of a 10-piece dumbbell set
Change weights with the turn of a dial
Stop into any of our three Valley locations to learn more about MX55 Selectorized Dumbbells by MX Select – or contact us on our website!