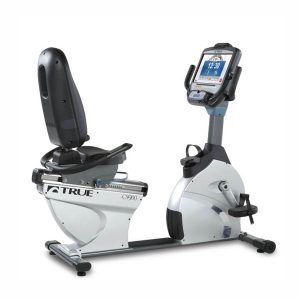 There are a wide variety of health benefits of a recumbent bike. You definitely can get a great workout, but that's assuming you realize that like any piece of exercise equipment, you only will get out of it what you put into it! A recumbent bike is not an opportunity to lounge back and casually pedal – you need to elevate your heart rate to get any exercise benefit. But, if you crank up the resistance and keep a steady, intense cadence, a recumbent bike can help you burn calories, train your heart and strengthen your lower body.
What is a Recumbent Bike?
WHen you think of an exercise bikes, there are two styles – upright and recumbent. An upright bike is one where you sit upright, like a normal bicycle. One major disadvantage of this style of bike for some people is that it can be a bit rough on your back, especially if you have a history of back pain. Enter the recumbent bike. With a recumbent bike, you sit with your feet in front of you on the pedals, rather than having your pedals beneath you. This relaxes posture is great for those with back, shoulder, or neck issues. And, unlike an upright bike, you can't use your weight to get the pedals moving – you have to use your muscles. So, the recumbent bike's design is actually a great way to keep you from "cheating" on your workout. And, because that also means your position is non weight-bearing, you'll take stress off your knees as well.
Benefits of using a Recumbent Bike
Benefit #1 – You'll Target More Muscles – Recumbent cycling helps you build muscles in your thighs, lower legs and buttocks – and according to some research, more muscles than an upright bike.
Benefit #2 – A Recumbent Bike Is Not Only Safer, But More Comfortable! – Most rehab facilities feature recumbent bikes, as they not only support your back, but the seat is larger and more comfortable. They are also easier to mount & dismount, reducing the risk of injury.
Benefit #3 – You Can Work Out Longer! – The seated position distrubutes stress pointa across your back and buttocks rather than being focused purely on your butt. That extra comfort means you are more likely to work out longer, as well as have less pain the next day, motivating you for more frequent workouts.
At Fitness 4 Home Superstore, we feature a full range of recumbent bikes from the industry's top manufacturers, including True, Spirit, Precor, First Degree, and Helix. Stop into any of our three Phoenix-area locations and try one out today!