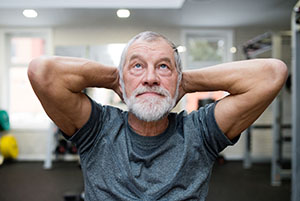 So, you're not as young as you used to be. And, maybe you've settled for your current level of fitness. Hey, you can still move around without issues, right? Well, there's a host of benefits of getting – and staying – fit as you age. Here's a few reasons why a fitness program is important as you age.
First, staying healthy isn't just about working out. It also includes a proper diet. But since this article is about fitness, fitness is more than just a slim waist and strong muscles. Being fit also impacts your mental health, your bone strength, how well your organs function, and even your energy levels.
Staring a Fitness Program Improves Your Cardiovascular Strength – Walking, running, swimming – and even strength training, rely on good cardio strength. But so do simple activities like climbing stairs, working around your yard, or keeping up with your grandkids. By starting a cardio program, you'll not only strengthen your heart, you'll help reduce your blood pressure, all while improving your endurance for those activities you love.
Exercise Helps To Reduce the Risk of Dementia – Your brain requires oxygen. A lot of it. And, as your body takes in oxygen, it removes unnecessary waste from your organs and muscles – waste product that if allowed to build up over time, can impact memory, how your brain processes information, and how you resolve problems. Exercise helps to make sure your brain gets adequate blood flow to maximize this process, helping you to avoid dementia.
Fitness is Important to Improving Your Bone Health – As you age, your bones weaken. Strength training not only builds muscle – it strengthens your bones as well. By adding a strength training fitness program to your routine, you can help reduce the risk of osteopenia and osteoporosis.
Being Fit Makes You a Happier Person – Did you know that when you exercise, your body releases a natural pain killer called endorpins? Endorphins also help to reduce depression, improving your outlook on life. So, by exercising, you'll feel happier! And, endorphins are far safer than over-the-counter medicines!
Getting Fit Helps Your Balance – By strengthening your muscles and bones, you build extra stability into your body. And regular exercise also helps you to improve your reaction times. By adding balance training to your workouts, you'll be well equipped to avoid falls, fractures, and loss of function and mobility.
Fit People Sleep Better – Studies have shown that regular exercise can help you sleep better. You'll fall asleep faster, thanks to fluctuations in body temperature, and you'll sleep deeper as well. This improves your energy level, as well as your state of mind. Waking up refreshed and full of energy is a great way to help you get through the day!
You should always talk to your doctor before starting any fitness program. But once cleared by your doctor to start a fitness program, working out in your own home allows you to start slowly, at a pace you're comfortable with. And, at Fitness 4 Home Superstore, we carry a full range of the industry's best cardio equipment, strength training equipment, and fitness accessories. Stop into any of our three Phoenix area stores, and talk to our sales consultants about what you wish to accomplish. They can help you find the perfect type of equipment for your fitness goals.