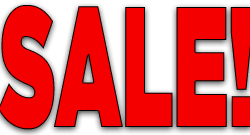 We've extended our Labor Day Sale, featuring "Red Tag Savings", through Sunday, September 13th! This "Extended Labor Day Sale" is the perfect opportunity to get that new equipment you're looking for – and save money as well!
Come into any of our three Valley locations and take advantage of our "Labor Day Red Tag" special floor model pricing on select Treadmills, Ellipticals, Home Gyms & More!  And, get savings of 15%, 25% – even up to 35%!
Here's how our" Red Tag sale works is like this. Each of our three store locations has a portion of our inventory on the floor of our stores, consisting of brand new treadmills, ellipticals, home gyms, and other fitness equipment. And, we've already got great deals on these models, with our normal sale prices listed on all of our fitness equipment lines – so if you're looking for a new, still-in-the-box model – you'll be getting great savings.
But, we also have floor stock inventory that we need to move immediately. Stop in one of our stores, and if you see a "red tag" attached to it – you'll receive additional savings on top of the listed sale price – and your total savings could be up to 35% off the original MSRP price!
With the holidays quickly approaching, start your home workouts now to avoid the inevitable "holiday weight creap!". Stop into our Phoenix, Chandler or Scottsdale stores – don't let savings like this get away!