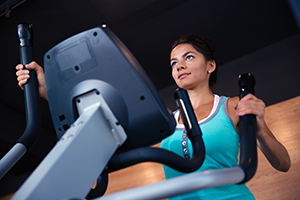 Elliptical trainers are wonderful cardio machine, both for fitness as well as weight loss. They are joint friendly, and incredibly versatile. You can go forward and backward, work your arms and legs, or focus on your core — all while getting your heart rate up. Here are some tips to help you maximize your workout on the elliptical machine.
Elliptical Exercise Tips
If your goal is a good cardio workout: – Your goal should be to focus on strides per minute (SPM), which is the number of times your legs go around in 60 seconds. After your warm up, your strides per minute goal should be somewhere between 140 and 160. If you're doing intervals on the elliptical, make sure your "sprints" are above 160.
If your goal is to tone your legs: – Watch your feet. If you press on your toes, you'll work your quads as well as the fronts of your thighs more. If you push with your heels, your butt and hamstrings will get more of a workout. Have you tried peddling backward? This is a great way to train your hamstrings and glutes, toning your backside.
If you are trying to work your core: – Those handles you've been holding during your workouts? Let go of them. When you stop supporting your upper body with the elliptical arms, you're forced to balance yourself by working / tightening your core muscles. Just place your hands on your hips for awhile while you workout to target your core.
And, if you're looking for that perfect elliptical for your home, stop into any of Fitness 4 Home Super store's three Phoenix stores. We carry new ellipticals from the industry's top elliptical brands – including Precor, True, and Spirit. We also have a selection of pre-owned equipment as well – so stop by today!