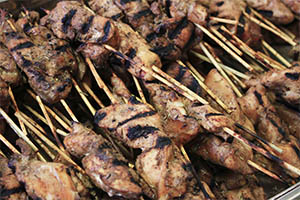 A healthy diet includes at least a gram of protein per pound of body weight per day, and chicken is a wonderful source of that protein! Looking for a new way to cook that chicken? Try this recipe for Grilled Chicken with Mango Avocado Salsa!
Ingredients
4 ripe plum tomatoes,
1 finely chopped mango,
halved1/2 small red onion,
finely chopped1 jalapeño chili pepper, seeded and diced
2 tablespoons chopped fresh cilantro
1/4 cup fresh lime juice
1/2 avocado
1/2 cup non-fat, plain yogurt
1/2 small red onion
1/4 cup fresh lime juice
1/4 cup fresh cilantro
4 boneless, skinless chicken breasts, about 4 to 6 ounces each
salt to taste
freshly ground black pepper
In a small food processor or blender, puree the yogurt, red onion, lime juice and cilantro to make a yogurt marinade, and transfer the marinade to a shallow bowl or a plastic bag. Drop the chicken in the bag, making sure that the chicken gets coated well with the marinade. Throw in the refrigerator for at least an hour, and up to 8 hours. To cook, preheat your grill to medium high. Pull the chicken out of the plastic bag and throw the bag with the remaining marinade away. Season the chicken with some salt & pepper, and grill the chicken on both sides until it is cooked through, about 6 minutes per side. Serve the chicken with tomato-avocado salsa.
Mango Avocado salsa:
In a small bowl, combine the mango, red onion, pepper and cilantro. Chop the avocado and sprinkle it with 2 tablespoons of lime juice to keep it from browning. Add the avocado and remaining lime juice to the bowl and toss to combine.
Nutritional Info:
Serving Size: 1 chicken breast with salsa
Number of Servings: 4
Per Serving: Calories 283
Carbohydrate :16 g
Fat: 6 g
Fiber: 4 g
Protein: 43 g
Saturated Fat: 1 g
Sodium: 341 mg