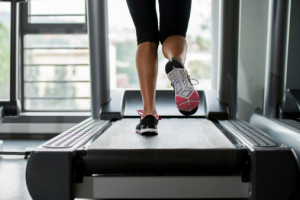 It's late fall / early winter across the country, and even in Arizona, it's a bit chilly to go running in the morning. Plus, with less light, it's safer (not to mention more comfortable) to run indoors on a treadmill, rather than run outside. The downside – it's hard to stay motivated toward achieving your fitness goals, as running on a treadmill can be a bit boring at times!
There's a way to fix that problem. Have some fun with these 3 treadmill workouts! And, if you make your training sessions faster, you'll not only get them over with quicker, but you'll improve your speed, economy, and if you're training for a race, your final race performance as well!
So, try one – or all – of these three workouts. And, you'll be more engaged – and involved – with your run, so you won't be stuck watching TV or staring at the wall!
Workout #1
Start running at an easy pace for 10 minutes to warm up, then increase the pace by about 5-10 seconds per mile every 3 minutes, depending on how long your planning on running.
Want to make your run more difficult? Increase the incline of the treadmill by half a percent. After several miles of increasing pace and incline, reverse the order and slowly transition back to your easy pace and the starting incline.
By adding progression during your workout, you're teaching yourself to run fast when you're tired!
Workout #2
Do you normally listen to music when you run? Try loading a playlist with with sixty 1-minute songs. Do your warm up with some stretches, and 10 minutes of easy running. Then run your workout based on that lineup, alternating between fast and slow paces. What you're doing is running what is called "Fartlek" running (Swedish for "speed play").
By changing your pace frequently, you learn how best to deal with a changing pace during a race as well!
Workout #3
Running out of time but still need to get a challenging workout in? Just like Workout #2 – you'll want to build a playlist to listen to as you run, this time with about 10 songs that are about 3 minutes long. You want upbeat, high energy songs for half of the playlist, and more mellow songs for the 2nd half. Then set your playlist to "shuffle". Fast songs mean fast running. Slow songs mean you slow down.
This workout helps you train for unpredictable condistions, as sometimes, you'll get 2 or 3 fast songs in a row, other times, maybe not! This workout can be done in 30 minutes, yet, because of its unpredictabilty, you won't know what's coming – just like in a big race! It's great for learing to run faster during those times you don't have much time for training!
Looking for a treadmill for your winter workouts? For more information about buying a treadmill or any other type of fitness equipment for your Phoenix area home, contact Fitness 4 Home Superstore today and we'll be happy to match you up with the perfect piece of exercise apparatus – cardio, strength, core or flexibility.