Product Highlights
The Octane LateralX Commercial Lateral Trainer is an all-in-one machine that lets exercisers walk, run, hike or climb to target different muscles for customized effectiveness
Product Details for the Octane LateralX Commercial Lateral Elliptical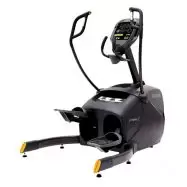 Octane LateralX Commercial Lateral Trainer
The Octane LateralX Commercial Lateral Trainer is an all-in-one machine that lets exercisers walk, run, hike or climb to target different muscles for customized effectiveness. Reinventing cross training, the innovative Octane LateralX utilizes varying planes of motion, including a stepping movement and adjustable, side-to-side motion, for functional exercise that builds stamina, muscular endurance, and core stability.
Research shows a 27% increase in caloric expenditure going from lateral width 1 to lateral width 10, and a 30% increase in outer and inner thigh work over traditional elliptical The variety within the movements keeps exercisers motivated and enjoying their workouts
The upper body gets totally involved using the patented, breakthrough MultiGrip and Converging Path handlebars, which fits exercisers comfortably. It's easy to target different arm, chest and back muscles by changing the hand position on the MultiGrip handlebars, which include fingertip controls for stride width and resistance. Converging Path handlebars follow the natural path of the arms when walking, running, or moving side to side.
For additional variety, the stepping motion can be used to alternate with lateral movements, for recovery or to incorporate beneficial cross training and target different muscle groups. Exercisers are free to customize their motion at any time throughout workouts.
Designed with a compact footprint and self powered operation, the Lateral X fits anywhere in a fitness facility, which makes it easy to floor several units to meet demand and accommodate many exercisers. It's simple to get on and off the machine safely with its low step height and rear access.
Personal Entertainment Console Options
The LateralX boasts supreme entertainment with a choice of a smart or standard console, which add various options:
Lateral X Smart Console Features
10″ glass capacitive touch screen
Workout Boosters and CROSS CiRCUIT video coaching
Simultaneously displays essential workout data
Wi-Fi enabled
Web browsing, video streaming
Web applications
USB port (charging capabilities)
15 workout programs and 30 resistance levels
Wireless heart rate compatibility – ANT+ and Polar
Digital contact heart rate sensors
3 speed console fan
Add on options: Personal viewing screen and wireless 900Mhz
Lateral X Standard Console Features
Large LED display with integrated capacitive buttons
Simultaneously displays essential workout data
Adjustable 3-D motion
10 lateral width adjustments
15 workout programs and 30 resistance levels
Wireless heart rate ready – ANT+ and Polar
Digital contact heart rate sensors
3-speed console fan
Self-powered
Add on options: Personal Viewing Screens and Wireless 900Mhz
Max User Weight: 400 lbs (181 kg)
Footprint: (W x L) 42" x 63" (106 cm x 160 cm)
Product Weight: 388 lbs (176 kg)
Lateral Width Adjustments: 10
Electronically Adjustable Lateral Width: Yes
Quiet Motor: Yes
Soft Grip Pedals: Yes
Low Step-up Height: Yes
MultiGrip™ and Converging Path™ Handlebars: Yes
Moving Handlebar Lock-out Option: Yes
Phone Holder: Yes
Water Bottle Holder: Yes
Tablet/reading Rack: Yes
Transport Wheels: Yes
Resistance Levels: 30
Quick Starts: Narrow, Medium, Wide
Digital Contact Heart Rate on Moving Handlebars: Yes
Wireless Heart Rate Ready: ANT+™ and Polar®
Fingertip Controls on Moving Handlebars: Yes
Console Fan: 3 speeds
Self-Powered: Standard console only
Mobile Device Charging via USB port: Yes
Replaceable Headphone Jack: Yes
CSAFE®: Yes
Console Options: Smart (10" (25.4 cm) capacitive touch screen) or Standard (Large LED display with integrated capacitive buttons)
Lateral Width Programs: Lateral Interval, Dual Direction
Preset Programs: Manual, Random, Interval, Distance goal, Calorie goal, CROSS CiRCUIT®
Heart Rate Control Programs: Heart Rate Fat Burn • Heart Rate Interva
Advanced Programs: 30:30 Interval • MMA • Constant Watts • Constant METs
Workout Boosters: X-Mode™ • ThighToner™ • QuadPower
Additional information
| | |
| --- | --- |
| CONSOLE OPTIONS | LateralX Smart Console, LateralX Standard Console |
Commercial Warranty
Frame: Lifetime
Parts: 3 years
Labor 1 year