Product Highlights
Durable, comfortable, and smooth are all qualities of the Spirit Fitness CU800 fitness bike. The dual-spring seat is made of high durometer foam; the pedals are also padded for less stress on your feet. The Spirit Fitness CU800 fitness bike is very appealing if you value a smooth ride and extensive data feedback.
Product Details for the Spirit CU800 Commercial Upright Bike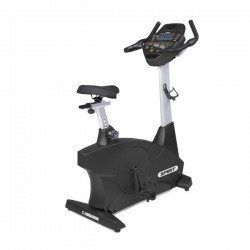 Spirit CU800 Commercial Upright Bike
The Spirit CU800 Commercial Upright Bike – featuring easy adjustments, bright LED screens, a turbo cooling fan, high density foam seats, challenging programs, 40 levels of magnetic resistance, and a generator powered console are standard on both models. The CU800 has been designed for comfort and convenience – if your users don't enjoy the experience that our products create, they won't feel compelled to make using them a part of their lifestyle.
The Spirit CU800 Commercial Upright Bike was specifically engineered for the commercial environment, from its durable powder coat paint finish to its heavy duty steel frame. The overall design focuses on convenience, comfort, and durability.
The CU800 model is very appealing to users that value comfortable ride quality and an extensive amount of data feedback. The console is identical to the CR800 fitness bike & CE800 elliptical trainer, which makes programming very familiar when using any Spirit Fitness C series products.
Product Highlights
Console Feedback. The bright LED screen displays all pertinent information is displayed during the workout and a summary of accumulated data scrolls when you have finished.
Cooling Fan. Cooling fans are standard on all of our fitness bikes. This may just be the reason individuals extend their workout by a few minutes.
Heart Rate % Profile. Heart Rate training is proven to be one of the best ways to measure your workout. Our Heart Rate % Profile gives you a quick reference of your % compared to maximum projected heart rate. The LED lights up in Amber for 50-60%, Green for 65% to 80%, and Red for 85%+.
Comfort. The dual-spring seat is made of high durometer foam; the pedals are also padded for less stress on your feet.
Adjustability. A vertical ratcheting, pop pin engaged seat post and micro adjustments of the seat in the fore/aft direction.
Foot Pedals. Our pedals have 2⁰ of inversion that help place your body into an anatomically correct position throughout the workout; they are also padded to take stress off of the feet.
Transportation. There are transport wheels integrated into the front floor support tube for ease of repositioning. Simply lift and tilt the front end to roll the unit to your desired location.
C-Safe. The console has C-Safe Power & Communication capabilities for A/V control and virtual racing interaction with WebRacing® software.
Frame: Heavy-Gauge, High-Strength Steel w/ Durable Powder-Coat Paint
Dimensions: 42" x 21" x 53"
Product Weight: 115 lbs.
Maximum User Weight: 450 lbs.
Resistance: 40 Levels
Drive Train: Poly-V Belt w/Self-Tensioner
Power: Self-Generating
Flywheel: 30 lbs.
Seat: Dual-Spring Cushioned
Adjustments: Easy-Ratchet w/ full Fore/Aft Seat
Crank: 3-Piece, Cold-Forged Steel, Case-Hardened Axle & Commercial-Grade Sealed Bearings
Console: Large Blue-LED Matrix Window w/ 20-Character Message Center,
w/ Integrated Reading Rack
Console Feedback: Time, Distance, Calories, Watts, Speed, RPM, Pulse, and METs
Heart Rate: Contact & Telemetric
Programs
HILL: This program follows a triangle or pyramid type of gradual progression from approximately 10% of maximum effort (the level that you chose before starting this program) up to a maximum effort which lasts for 10% of the total workout time, then a gradual regression of resistance back to approximately 10% of maximum effort.
FAT BURN: This program follows a quick progression up to the maximum resistance level (default or user input level) that is sustained for 2/3 of the workout. This program will challenge your ability to sustain your energy output for an extended period of time.
CARDIO: This program presents a quick progression up to near maximum resistance level (default or user input level). It has slight fluctuations up and down to allow your heart rate to elevate, and then recover repeatedly, before beginning a quick cool down. This will build up your heart muscle and increase blood flow and lung capacity.
STRENGTH: This program has a gradual progression of resistance up to 100% of maximum effort that is sustained for 25% of workout duration. This will help build strength and muscular endurance in the lower body and glutes. A brief cool down follows.
INTERVAL: This program takes you through high levels of intensity followed by recovery periods of low intensity. This program utilizes and develops your "Fast Twitch" muscle fibers which are used when performing tasks that are intense and short in duration. These deplete your oxygen level and spike your heart rate, followed by periods of recovery and heart rate drop to replenish oxygen. Your cardiovascular system gets programmed to use oxygen more efficiently.
CUSTOM: An individual can store personal information and design a custom program that can be saved for future use. You decide what the resistance will be for each segment of the program.
FIT TEST: The fitness test is based on a sub-maximal Vo2 (volume of oxygen) test. The program will gradually increase resistance until the time expires or you reach 85% of projected heart rate maximum (calculated when entering age in the programming portion). Based on where the test finishes, your score will be calculated and can be compared to others in your age group to determine your cardiovascular level of health.
MANUAL: The Manual program works as the name implies, manually. This means that you control the workload and incline, not the computer.
HEART RATE (2x): Both programs work the same. The programs attempt to keep you within 3-5 heart beats of your target heart rate % by automatically increasing or decreasing the resistance level. Heart Rate 1 has a 60% (better for a fat loss goal) of projected heart rate maximum default. Heart Rate 2 has an 80% (better for a cardiovascular conditioning goal) of projected heart rate maximum default.
Additional information
| | |
| --- | --- |
| Select | Spirit CU900 Commercial Upright Bike Only, Spirit CU900 Commercial Upright Bike with optional TV Bracket |
Commercial Warranty
(non dues paying facility)
Frame: Lifetime
Brake: 5 years
Parts: 5 years
Labor: 2 years