Product Highlights
The Paramount MP 2.5 2 Stack Gym is a commercial quality 2 stack gym, featuring 4 workout stations, including Leg Extension / Leg Curl, Upper Body, Leg Press, and Low Pulley stations.
Product Details for the TRUE MP 2.5 2 Stack Gym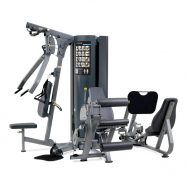 TRUE MP 2.5 2 Stack Gym
The TRUE MP 2.5 2 Stack Gym is a commercial quality 2 stack gym, featuring 4 workout stations, including Leg Extension / Leg Curl, Upper Body, Leg Press, and Low Pulley stations.
The MP 2.5 2 Stack Gym comes standard with (2) 170 lb weight stacks in 10 lb. increments. Optional 15 lb plates are available, and the MP 2.0 can be optionally ordered with (1) 170 lb stack + (1) 250 lb stack, or (2) 250 lb stacks. And, the MP 2.5 meets or exceeds ASTM and EN-957 Safety Design Standards.
Stations:
Leg Extension / Leg Curl – 4 starting positions for both extensions and curls allow users to choose the range of motion best suited to their individual needs. 5 position back pad and leg curl thigh pad accommodate a wide range of users. Self adjusting ankle pad eliminates need for adjustment while providing proper support throughout entire range of motion.
Upper Body – Exercises include Chest, Incline, and Shoulder Presses; Lat Pulldown and Seated Row; Triceps Pushdown and Extension; and Abdominal Crunch. 8 position press arm and back pad are color coded for quick and accurate adjustment.
Leg Press – Low profile design includes adjustable six position foot platform with gas cylinder assist.
Low Swivel Pulley – Ideal for wide range of exercises including Biceps Curl, Upright Rows, Inner Thigh, and Outer Thigh.
Features:
Attractive Weight Stack Enclosures: Completely conceal weight stacks
Color Coded Instruction Label: Clearly illustrates 16 common exercises and includes recommended Maintenance Schedule.
Standard Accessories Include: Lat Bar, Revolving Curl Bar, Nylon Handle, Ankle Strap, and Abdominal Crunch Strap
Accurate-Fit: 5 position back pad and leg curl thigh pad to accommodate a wide range of users.
Quick & Accurate: 8 position settings on both the press arm and back pad are color coated for quick and accurate adjustment of exercise position.
Accommodating: 5 position adjustable seat to accommodate wide range of users.
Offering modern styling and optimum function, the MP Series represents the best value-priced two, three, and four stack mult -purpose units on the market today. With commercial quality construction and proper biomechanics, MP is the perfect choice for hotels and resorts, corporate fitness centers, police and fire agencies, apartment and condominium complexes, and the residential market.
Dimensions: W: 97", L: 83", H: 83.75"
Structural Frame: Modern styling and structural reliability through the use of 40mm x 80mm and 50mm x 100mm oval shaped tube and precision laser cut steel plate components.
Adjustments: Color-coded adjustment knobs provide quick and easy user reference, enhance aesthetics and eliminate corrosion. Positive locking adjustments use permanently enclosed compression spring for maximum security.
Custom Handgrips: Extruded thermo rubber compound handgrips provide durability and comfort.
Custom Molded Feet: Located under the base frame to insure stability and prevent marring of floor surfaces.
Cables: US made mil-spec lubricated 1/8" cable nylon coated to 3/16", with a 2,000 lbs. tensile strength and swaged ball fitting and 5/8" threaded bolt tension adjustment for maximum durability.
Selector Shaft Assembly: Cold rolled solid 1" selector shaft, chrome-plated for durability and appearance. Machined bullet tip insures proper weight stack entry. Custom designed cap plate with fitted bushings insures low-friction movement of weight plates over guide rods. Receptacle integrated into cap plate provides selector pin storage when user desires zero weight plates.
Pulleys: Fiberglass™ reinforced pulleys with deep V-grooved channel provide secure cable seating and optimum bearing rotation. Sealed ball bearings insure smooth and quiet pulley operation.
Weight Stack: Choice of 10-lb. or optional 15-lb. increment machined weight plates, 1" thick with fitted nylon bushings to assure smooth travel on guide rods.
Heavy-Duty Selector Pin: Magnetic selector pin assures positive locking to plates and is secured to the weight stack with a thick plastic-coated elastic cable.
Axles and Ball Bearings: 1" Solid steel pivot axles with lubricated 25mm sealed bearings encased in steel housings for frictionless movement and precision alignment of pivots.
Weight Stack Enclosure: Heavy-duty 16-gauge steel panels enclose weight stacks for safety and aesthetics. Each panel can be easily removed when necessary.
Paint Colors: Electrostatically applied powder coat finish enhances appearance and durability. Frame color is Silver. Shroud is painted Storm Grey. Weight plates are black.
Upholstered Pads: Superior-grade Grey upholstery stitched over high density foam with 3/4" CDX plywood.
Additional information
| | |
| --- | --- |
| Select | Paramount MP 2.5 2 Stack Gym with (2)170 lb. weight stack, Paramount MP 2.5 2 Stack Gym with 170 lb + 250 lb weight stacks, Paramount MP 2.5 2 Stack Gym with (2) 250 lb. weight stacks |
Commercial Warranty*
Frame (not coatings): 10 Years
Bronze Bushings, Sealed Rotating Bearings, Pulleys, Weight plates &
Guide Rods: 5 Years
Cables, Linear Bearings, Shafts & All Other Components: 1 Year
Wear Parts: 90 Days
Labor: 1 Year