Product Highlights
The PhysioStep LXT recumbent linear stepping motion gives your clients an easy and effective low impact total body workout. It combines a stable and stress free recumbent sitting position, with the natural feeling of walking
Product Details for the HCI PhysioStep LXT Adaptive Recumbent Linear Cross Trainer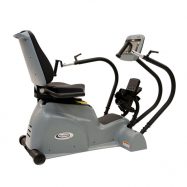 HCI PhysioStep LXT Adaptive Recumbent Linear Cross Trainer
Whether your facility is focused on helping your clients loose weight, develop general health improvements, corporate wellness, cardiac rehabilitation, or physical therapy, the HCI PhysioStep LXT Recumbent Linear Cross Trainer is the ideal piece of equipment for your studio or gym.
The PhysioStep LXT recumbent linear stepping motion gives your clients an easy and effective low impact total body workout. It combines a stable and stress free recumbent sitting position, with the natural feeling of walking. And, The innovative Linear Stepping Motion is incredibly smooth and easy on joints and connecting tissues.
The PhysioStep LXT Recumbent Linear Cross Trainer features a large, oversized "ultra comfortable" swivel seat that adjusts easily and fully rotates making this unit easily accessible for people with low mobility. Other features include a low profile walk through design & ergo grip handles to work arm and core muscles. The fully adjustable arms, seat, and seat back accommodate a wide range of users.
The large 9″ LCD display provides workout information in a clear and easy to read format. Built with high quality commercial components and available at an affordable price the PhysioStep LXT Recumbent Linear Cross Trainer is perfect for commercial, medical, and rehabilitation applications.
Product Features:
High Definition 9″ LCD Display
Multi-Position Ergo Grip Handles
20″ Oversized Seat Rotates 360° for Easy Access
Oversized Pedals with Deep Heal Cups & Ergo Straps
Dimensions: 60" L X 30" W X 40" H
Unit Weight: 201 lbs.
Max User Weight: 400 lbs.
Swivel Seat: 20" Oversized Seat Rotates 360° for Easy Access
Seat Position: Fully Adjustable Forward and Backward (24" Range)
Resistance System: Electromagnetic
Resistance Levels: 1-16
Programs: 18 Set Programs (See Computer Details)
Arm System: Multi-Position Ergo Grip Handles
Pedals: Oversized with Deep Heal Cups & Ergo Straps
Stride: User Controlled 1" - 12" Stepping Motion
Stabilization Kit: Optional View Details
Power: AC 110V-220V | 50/60Hz
Product Type: Commercial Grade
Display: High Definition 9" LCD Display
Backlight: Easy to Read High Contrast Blue
USB Summary: Export Workout Data Including Peaks and Averages
Feedback: Time, Distance, Pulse, Steps Per Minute (SPM), Calories, WATTS, METs, & Resistance Level "1-16"
Programs: 18 Programs: Manual, Warm Up, Interval, Ramps, Mountain, Rolling, Climb, Random, Hill, Fat Burn, Cardio, Strength, HRC 65%, HRC 85%, Constant SPM, Constant Watts, Goals Calories, Goal Distance
Heart Rate: Built in Receiver Compatible with Polar and other Manufactures (Chest Belt Not Included)
Commercial Warranty
Frame: Lifetime
Mechanical Parts: 3 years
Electronic Parts: 3 years
Labor: 1 year