Product Highlights
The Spirit CE800 Elliptical Trainer is designed with convenience, comfort, reliability, and aesthetic appeal in mind.
Product Details for the Spirit CE800 Commercial Elliptical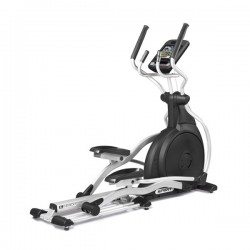 Spirit CE800 Commercial Elliptical Trainer
The Spirit CE800 Commercial Elliptical Trainer is designed for convenience, comfort, reliability, and aesthetic appeal – the perfect compliment to your facility. The CE800's proper ergonomics and biomechanics, a smooth, quiet stride, important workout data feedback, and challenging programs make this the optimal choice for your users.
The CE800 was specifically engineered for commercial applications, from its durable powder coat paint finish to its heavy duty steel frame. The design is optimized for convenience, comfort, reliability, and aesthetic appeal.
The CE800 Elliptical features a variety of program options, as well as wireless and contact heart rate, a 20" stride length, 40 levels of resistance, a 30 lb. flywheel, and an extensive amount of console feedback This model is very appealing to someone that values a smooth ride and extensive data feedback.
As with any product, a major importance is the user interface. Spirit CE800 Commercial Elliptical Trainer is designed to make everything comfortable and accessible: A storage tray for a phone, keys, or an MP3 player, ergonomically friendly pulse grip handles for a more natural hand position, and a Turbo cooling fan to keep your clients cool and encourage them to workout longer.
A quick press of a button and your clients are off on a walk, a run, or one of the many specialized workouts such as the Fit Test or Constant Power programs. The large, easy-to-read console gives your clients constant feedback from calories to distance to time.
Product Highlights
Generator System: This unit uses a generator to power the console. Therefore there is no need for an electrical hookup.
Flywheel: A 30 lb. flywheel creates more inertia (RPM & Watt output).
Heart Rate % Profile: There is a bar graph integrated into the console that lets you know where your heart rate is in relation to projected maximum (calculated when you enter your age in the programming section of each program).
Cooling Fan: A turbo Cooling fan is standard on the CE800 elliptical. This may just be the reason individuals extend their workout by a few minutes.
Foot Pedals: Spirit Fitness elliptical trainers are the only elliptical trainers that have an integrated two-degree inward tilt to make your workout more comfortable. This exclusive design puts you in a more ergonomically correct position. The pedals are also padded, placing less stress on your feet.
C-Safe Power & Communication: The console has C-Safe Power & Communication capabilities for A/V control and virtual racing interaction with WebRacing® software.
Frame: Heavy-Gauge High-Strength Steel w/ Durable Powder-Coat Paint
Dimensions: 84" x 32" x 70"
Product Weight: 265 lbs.
Maximum User Weight: 450 lbs.
Resistance: 20 Levels
Drive Train: Integrated Generator w/13.5 kg Flywheel
Power: G 120 Volts; 15 Amp Circuit recommended
Flywheel System:  30 lbs.
Stride Length: 18"-24" in 1/2" increments
Pedals: Oversized w/ 2-Degree Inversion
Console: Large Blue-LED Matrix w/ 4 Separate LED Info Windows, 20-Character LED Message Center, LED Heart
Rate Bar, Tablet Friendly Reading Rack
Heart Rate: Contact & Telemetric (Chest strap sold separately)
Programs
HILL: This program follows a triangle or pyramid type of gradual progression from approximately 10% of maximum effort (the level that you chose before starting this program) up to a maximum effort which lasts for 10% of the total workout time, then a gradual regression of resistance back to approximately 10% of maximum effort.
FAT BURN: This program follows a quick progression up to the maximum resistance level (default or user input level) that is sustained for 2/3 of the workout. This program will challenge your ability to sustain your energy output for an extended period of time.
CARDIO: This program presents a quick progression up to near maximum resistance level (default or user input level). It has slight fluctuations up and down to allow your heart rate to elevate, and then recover repeatedly, before beginning a quick cool down. This will build up your heart muscle and increase blood flow and lung capacity.
STRENGTH: This program has a gradual progression of resistance up to 100% of maximum effort that is sustained for 25% of workout duration. This will help build strength and muscular endurance in the lower body and glutes. A brief cool down follows.
INTERVAL: This program takes you through high levels of intensity followed by recovery periods of low intensity. This program utilizes and develops your "Fast Twitch" muscle fibers which are used when performing tasks that are intense and short in duration. These deplete your oxygen level and spike your heart rate, followed by periods of recovery and heart rate drop to replenish oxygen. Your cardiovascular system gets programmed to use oxygen more efficiently.
CUSTOM: An individual can store personal information and design a custom program that can be saved for future use. You decide what the resistance will be for each segment of the program.
MANUAL: The Manual program works as the name implies, manually. This means that you control the workload and incline, not the computer.
HEART RATE (2x): Both programs work the same. The programs attempt to keep you within 3-5 heart beats of your target heart rate % by automatically increasing or decreasing the resistance level. Heart Rate 1 has a 60% (better for a fat loss goal) of projected heart rate maximum default. Heart Rate 2 has an 80% (better for a cardiovascular conditioning goal) of projected heart rate maximum default.
Additional information
| | |
| --- | --- |
| Select | Spirit CE800 Commercial Elliptical Only, Spirit CE800 Commercial Elliptical with optional TV Bracket |
Commercial Warranty
(non dues paying facility)
Frame: Lifetime
Brake: 5 years
Parts: 5 years
Labor: 2 years