Product Highlights
The True Fitness 900 treadmill combines TRUE's newest technology and performance advancements with the dependable quality and low cost of ownership you demand.
Product Details for the True C900 Commercial Treadmill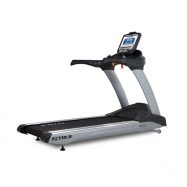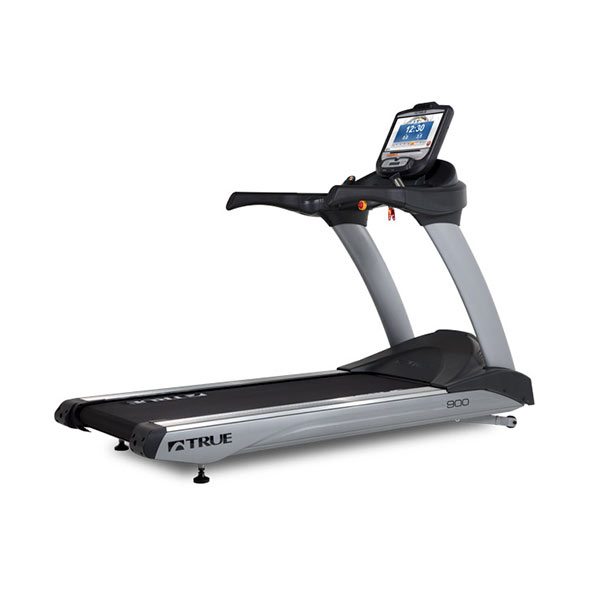 TRUE C900 Commercial Treadmill
The True Fitness C900 Commercial Treadmill combines dependable quality with TRUE's newest technology and performance advancements. Backed by TRUE's premium warranty, the C900 provides runners a premium experience and enhanced user engagement with:
Largest running surface in the industry at 62" x 23"
Speed range of 0.5mph-17mph
Patented HRC Heart Rate Control®
Patented low-impact Soft System®
Variety of console options; multiple levels of features, technology and asset management
Like all products from TRUE, the C900 Commercial Treadmill features high-quality craftsmanship and durability, backed by TRUE's 30+ years of history in the treadmill manufacturing industry.  TRUE's knowledge and experience within the fitness industry ensures that the 900 Treadmill has been designed to meet the unique requirements of any customer. Additionally, the 900 features a choice of intuitive and advanced display consoles as well. The C900 Commercial Treadmill has something to meet every budget, and every user's need. 
The TRUE C900 Commercial Treadmill is both strong as well as aesthetically pleasing. The robotically welded steel frame provides uncompromising stability that stands up to the most rigorous pounding – yet, the smooth sweeping hydroformed steel pedestals, brushed aluminum powder coat finish and matched aluminum straddle covers provide a sleek, contoured presentation that is a dramatic accent to any fitness environment.
The 5hp Max-Drive motor on the C900 Commercial Treadmill features an internal self-cooling system, ensuring years of dependable operation, as well as providing plenty of power and reliability for your customers.
Developed to provide users with a controlled flexible deck, the TRUE Soft System™ absorbs the shock of impact while running or walking. TRUE's patented Soft System™ offers the most orthopedicially correct running surface available.  Featuring a controlled running surface, the TRUE Soft System is easier on your customer's knees and ankles at impact. With a deck that is orthopedically superior to running on any other surface, your users experience low-impact running with little or no joint pain.
The TRUE C900 Commercial Treadmill comes standard with the Emerge Console, with other upgraded optional consoles available. The Emerge console features an orange LED display, Responsive Tactile Dome Buttons, and Over Molded Reading Rack/Tablet Holder, and 11 pre-programmed workouts. One touch HRC Cruise Control™ is also included, allowing users to "lock in" on a specific target heart rate – then, once the target is set, TRUE HRC Cruise Control™ adjusts the speed and incline automatically throughout the duration of the workout, helping to maintain the user's targeted heart rate.
Product Highlights

TRUE's Patented Soft System offering the most orthopedically correct running surface available
Quick access to speed and incline adjustments on the hand grips
Many console options to fit every user's need
Optional – Decline range of -3% to 18%
Wireless Heart Rate Monitoring with Polar® Heart Rate Monitors
62"x 23" running surface is the largest in the industry
5 HP AC Self-Cooling Max Drive motor featuring an internal self-cooling system ensuring years of powerful and dependable operation
The new TRUE EMERGE™ console has a simplistic design that is inviting and offers easy navigation.  EMERGE™ appeals to those users who want to walk up to a TRUE machine and quickly start their workout.  Emerge offers advanced simplicity to meet the needs of all levels of users. Features include: Provides pertinent information in an easy-to-read...

The new TRUE EMERGE™ console has a simplistic design that is inviting and offers easy navigation.  EMERGE™ appeals to those users who want to walk up to a TRUE machine and quickly start their workout.  Emerge offers advanced simplicity to meet the needs of all levels of users. Features include: Provides pertinent information in an easy-to-read presentation, 10 Preset Workout Programs,Wireless Heart Rate Monitoring, HRC Cruise Control, Self-Generated Power, Equipped with a Reading/Accessory Rack for your tablet, magazine or book.

Our Price:

+

-

The TRUE ESCALATE9 console has an intriguing design that allows users to escalate their workout with more programs, basic levels of audio entertainment, a USB port, and more. The ESCALATE™ consoles are an optimum solution for budget conscience operators who have a need to provide technologically advanced products. Features include: Basic iPod Connectivity, 11 Preset Workout...

The TRUE ESCALATE9 console has an intriguing design that allows users to escalate their workout with more programs, basic levels of audio entertainment, a USB port, and more. The ESCALATE™ consoles are an optimum solution for budget conscience operators who have a need to provide technologically advanced products. Features include: Basic iPod Connectivity, 11 Preset Workout Programs and 4 Saved Workouts, Over Molded Reading Rack and Tablet Holder, Wireless Heart Rate Monitoring,  USB Port for Workout Summary Exports, and Sleep Mode.

Our Price:

+

-

The all new TRUE TRANSCEND16 is the ultimate in touch screen technology.  TRANSCEND16 has intuitive navigation, programs for all levels, and all-encompassing entertainment, appealing to users of all fitness levels.  TRANSCEND™ is the pinnacle of cardio consoles...the ultimate console. Features Include: Touch Screen Technology, Advanced iPod Connectivity, Digital and Analog TV Tuners with Closed Captioning, Quick Speed Keys, High-Flow...

The all new TRUE TRANSCEND16 is the ultimate in touch screen technology.  TRANSCEND16 has intuitive navigation, programs for all levels, and all-encompassing entertainment, appealing to users of all fitness levels.  TRANSCEND™ is the pinnacle of cardio consoles...the ultimate console. Features Include: Touch Screen Technology, Advanced iPod Connectivity, Digital and Analog TV Tuners with Closed Captioning, Quick Speed Keys, High-Flow Cooling Fan (providing an increased air flow to users during your workout,) Virtual Active Technology for Scenic Landscape Simulations, Netpulse Compatible, Wireless Heart Rate Monitoring , 40 Preset Workout Programs and 5 Saved Workouts , USB Port for Workout Summary Exports , Nike+ Workout iPod Connectivity for workout data uploads , Multiple Language Options (English, German, Arabic, Spanish, Chinese, French, Russian, Dutch, Portuguse, Italian, Japanese, and Korean) , Over Molded Reading Rack and Tablet Holder, and Sleep Mode.

Our Price:

+

-
Warranty
Frame: Lifetime
Motor: 5 Years
Parts: 3 Years
Console: 3 Years
Labor: 3 Years
Headphone Jack, iPod Connector, USB Port: 90 Days (Parts, No Labor)