Product Highlights
The VersaClimber LX Model offers a versatile step and arm height of 1 to 20 inches. Great for short steps of 4-6″, speed sprinting sprinting, full body stretching, and users with short, medium, and long strides.
Product Details for the VersaClimber LX Model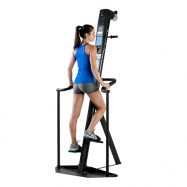 VersaClimber LX Model
The VersaClimber LX Model provides motivational group workouts in a minimal amount of floor space. Because the VersaClimber LX uses the least amount of floor space – 3 units and 5 units will fit in the space required for 1 or 2 other machines.
Health clubs, physical therapy clinics, military, universities, professional teams and other training and conditioning facilities world wide choose the VersaClimber for its unsurpassed cardio benefits, versatility and relentless durability.
The Leader in Total Body Fitness and a trusted name in fitness for 35 years VersaClimber has remained #1 leader in total body, vertical training. With its unique arm and leg pushing/pulling action, studies prove, moving arms above your heart and over your head creates better circulation and longer lasting cardio results.
The LX series VersaClimber is available in 4 versions: LX (No Heart Rate) LXP (w/Heart Rate) ALX (Fixed Resistance) ALXP (w/Heart Rate and Fixed Resistance) Optional upgrade Contra-Lateral Movement Pattern or "Cross Crawl" climb pattern can be added to each of the 4 versions.
Versaclimbing is a zero impact, injury free, total body, functional training workout. The VersaClimber product line combines precision engineering, relentless durability and unique styling with endless choices and versatility for its users.
Product Features:
Variable Resistance
Heart Rate Monitoring
Fixed Resistance
Running Handles, Quick Release
Arm Extenders
Contra-Lateral Movement Pattern / Cross Crawl
Additional information
| | |
| --- | --- |
| Select | LX (Variable Resistance), LXP (w/Heart Rate Monitoring), LXP CC (w/Heart Rate Monitoring & Contra-Lateral), LX CC (Variable Resistance & Contra-Lateral), ALX (Fixed Resistance), ALXP (w/Heart Rate Monitoring & Fixed Resistance), ALXP CC (w/Heart Rate Monitoring & Fixed Resistance & Contra-Lateral) |
Commercial Warranty
3 Year - Limited
3 Year - Frame
1 Year - Display Electronics
1 Year - Parts/Labor