TRX S Frame – Commercial
Request a Quote
Architects have an axiom: form follows function, meaning the design of a structure should be determined by its purpose. The TRX S-Frame is designed to be exactly that, a place where you and your clients or athletes can indulge in functional training in its truest sense
Product Highlights
Architects have an axiom: form follows function, meaning the design of a structure should be determined by its purpose. The TRX S-Frame is designed to be exactly that, a place where you and your clients or athletes can indulge in functional training in its truest sense
Product Details for the TRX S Frame – Commercial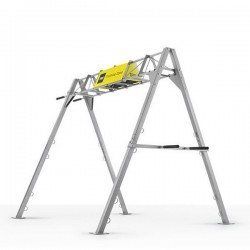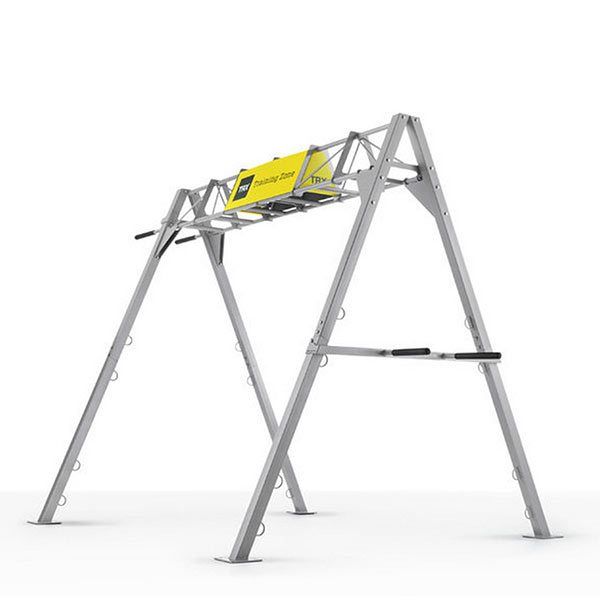 TRX S Frame
Architects have an axiom: form follows function, meaning the design of a structure should be determined by its purpose. The TRX S-Frame is designed to be exactly that, a place where you and your clients or athletes can indulge in functional training in its truest sense.
The 10-Foot TRX S-Frame provides the perfect anchoring solution for your TRX Training, hybrid workouts and small group training needs. Combine this S-Frame with the extensive programming and education offerings from TRX to help generate more non-dues revenue than ever before. The 10-Foot S-Frame includes TRX Hammer Bars and TRX Dip Bars to create the optimal functional training station for your facility. Additionally, TRX Castors can be purchased to help you easily move your S-Frame.
Not the right size for your facility? The S-Frame is available in 5, 15, 20, 25 and 30-foot lengths, to fit any space. Designed for medium to large group training sessions. Modular, free-standing system is 9' tall, and includes built-in monkey bars. Every frame includes integrated Hammer and Dip bars and welded attachment points for heavy bags, bands, and ropes. Commercial grade steel construction designed for indoor and outdoor training.
Frame Length: 5ft.
Frame Width: 8ft.
Height: Available in two models: Standard (8'3" tall) & Elevated (with Monkey bars, 9' tall)
Dimensions: 10 ft S-Frame / 20 ft S-Frame / 30 ft S-Frame: S-Frame external footprint: 10' L x 8' W x 80 sq. ft Surface / 19 ' L x 8' W x 152 sq. ft Surface / 28.2' L x 8' W x 226 sq. ft Surface
TRX Hammer Bars: Included with 10' Frame
TRX Dip Bars: Included with 10' Frame
Commercial Grade Castors: Optional
Additional information
| | |
| --- | --- |
| Select | TRX Frame – 5' Length, TRX Frame – 15' Length, TRX Frame – 20' Length, TRX Frame – 25' Length, TRX Frame – 30' Length, TRX Frame – 5' Length w/TTZ Castor (Set of 4), TRX Frame – 15' Length w/TTZ Castor (Set of 4), TRX Frame – 20' Length w/TTZ Castor (Set of 4), TRX Frame – 25' Length w/TTZ Castor (Set of 4), TRX Frame – 30' Length w/TTZ Castor (Set of 4) |