Ozzie Highlights
The TRM 223 is part of the new Precor Energy Series of treadmills - Commercial-grade models for your Phoenix Valley home. With so many convenience and design features within the Energy series like Energy Stride Technology, a powerful 3 HP continuous duty motor that runs cool and quiet providing plenty of power and torque, 10 preset workouts, touch sensor heart rate monitoring combined with Precor's SmartRate target zone feature, makes this treadmill the right choice for anyone looking for a superb cardio workout within the privacy of his or her home.
Product Details for the Precor TRM 223 Energy™ Series Treadmill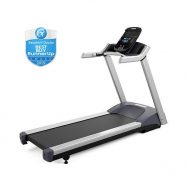 Precor TRM 223 Treadmill
Looking for a reliable treadmill which will be great in your Phoenix valley home? The Energy Series Precor TRM 223 Treadmill fits the bill. The Precor TRM 223 Treadmill is a stable, reliable and fully featured treadmill. Touch sensor and wireless heart rate monitoring, SmartRate® target heart zone monitoring, 10 preset workouts add variety to your fitness routine, speed and incline controls from our commercial series and no required maintenance come standard. The Precor TRM 223 Treadmill will help keep you moving toward your fitness goals.
Looking for fitness equipment that feels great, is reliable, lasts for years and keeps you engaged? The new Energy™ Series Treadmills provide a fitness center quality workout in the convenience of your home. With technology adapted from our commercial-grade models, these treadmills have design and convenience features that will help you reach your fitness goals faster and enjoy your workouts more.
Product Highlights
Energy Stride™ Technology / Energy Stride™ Technology uses the patented deck mounting system from our commercial treadmills to reduce stress on your joints by giving areas of the deck optimal amounts of underfoot cushioning and rigidity for the most comfort throughout your stride.


Structurally Sound Design / The non-folding design provides a more structurally sound and stable platform than folding types. Mechanical and electrical components are designed and tested for years of reliability and trouble free operation.
Preset Workouts / 10 preset workouts help you tailor your exercise to your fitness goals and stay challenged. Built-in warm up and cool down periods.
3 HP Motor and No Maintenance Design / Powerful 3 HP continuous duty motor runs cool and quiet providing plenty of power and torque when you want it–such as during interval training when you need to speed up and slow down in a hurry. 100% no maintenance design means you won't need periodic service calls.
Heart Rate Monitoring / Maximize your workout results with touch sensor and wireless heart rate monitoring. Works with any Polar® compatible wireless heart rate transmitter (sold separately).
SmartRate® Target Heart Zone / SmartRate helps you stay in your fat burn, cardio or peak target zone for a more efficient cardio and weight loss workout.
Product Specifications
Equipment Weight: 238 lbs / 108 kg
Equipment Dimensions: 81" L x 33" W x 60" H / 206 cm L x 82 cm W x 152 cm H
Running Surface: 20" W x 57" L / 51 cm W x 145 cm L
Speed and Deck Elevation Controls: Tap style Dome Keys
User IDs: 2
Deck: Phenolic surface, 1" / 2.54 cm fiberboard, reversible
Handrails: Full length
Motor: 3.0 HP Continuous Duty
Number of Workout Metrics: 13
Power: 120 V
Heart Rate Monitoring: Touch sensor and wireless with any Polar® compatible chest strap transmitter
Speed Range: 0.5 to 12 mph / 0.8 to 19.3 kph
Deck Elevation Range: 0% to 15% incline
Preset Workouts: 10
Console Display: 5" high contrast LCD
Warranty
Frame & Welds: Lifetime
Parts & Wear Items: 5 years
Console: 3 years
Labor: 1 year