Ozzie Highlights
Hydrow is the live outdoor reality™ rower. Hydrow brings the outdoors to you, so you can exercise, burn off stress, and experience the peace of being on the water.
Product Details for the Hydrow Rower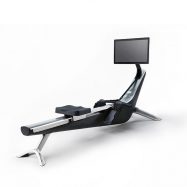 Hydrow Rower – From the Water to Your Living Room
Hydrow is the live outdoor reality™ rower. Unlike other home rowers, the Hydrow connects you with world-class trainers, fellow athletes, and the outdoors. Hydrow brings the outdoors to you, so you can exercise, burn off stress, and experience the peace of being on the water. What's more, the workouts connect you with your own crew as you row at home, so you know you aren't doing it alone.
Every Hydrow workout engages twice the muscles of biking or running, and is led by an experienced rower, some of whom are training for the U.S. National Rowing Team. This means you can burn up to 400 calories in a 20 minute workout with support, encouragement, your own hard work, and your crew is always with you.
Real Motivation, Real Results
Tune in as trainers teach rowing and proper resistance training, and instantly connect with thousands of new friends rowing with you. Row together as a team, or race each other to the finish line.
Delivers a Better Workout in Half the Time
400 Calories Burned – Burn up to 400 calories in a 20 minute workout.
86% of Muscled Engaged – Work your core, back, arms & legs – a total of 86% of muscles, compared to 44% from biking or running.
Low Impact – A comfortable, fluid workout that is easy on your body. Reduce joint stress, improve bone density, and increase overall workout effectiveness.
Increased Mental Clarity – Calm fluidity of repetitive strokes help to increase focus and drown out the thoughts that make you stressed.
Unique Live Outdoor Reality™ Rowing
Feel the power of the river with a connected HD touchscreen and training programs that adjust your resistance in real time. Set up multiple users with multiple profiles for your Hydrow™. Hydrow tracks your progress real time to help you reach your fitness goals.
World class trainers comprised of athletes (including rowers training for the U.S. National Rowing Team), share the best information and inspiration to keep you engaged. And, Hydrow's daily live workouts take place from beautiful locations, helping you to stay inspired during your workouts.
For those times you might not choose to attend a live rowing session Hydrow currently has over 200 filmed, recorded sessions – with more sessions being added regularly.
Note – $38/mo subscription to unlimited Hydrow content. Charges begin upon device activation.
Technology That Works As Hard As You Do
Hydrow's computer-controlled resistance technology can adjust 100 times per second to create resistance that matches traditional rowing machines, different types of on-water boats, or even a weight stack.
4 Ways to Get Your Workout In – 24-Hour Access to Classes for All Experience Levels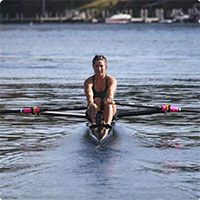 Live Rowing
Broadcast live from rowing instructors on the water or in the studio.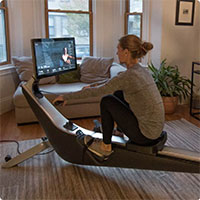 Rows on Demand
Pre-recorded river and studio rowing sessions available 24/7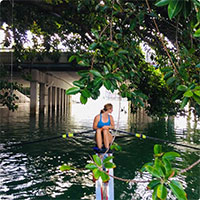 Serene River Rows
Listen to the quiet sounds of birds, running water, and the smooth rhythm of your strokes.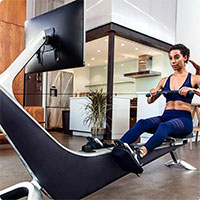 Whole Body Fitness
Yoga, stretching, functional movement & training for a complete fitness routine.
Designed With Tight Spaces in Mind
The footprint of Hydrow is 85″ long by 25″ wide, so it can squeeze into a pretty tight spot (height is just less than 4 feet including the screen). It can be stored upright with a mounting device available for purchase. The upright storage footprint is just 25″ x 33″*.
Complete Your First 60 Rows & Help Provide Access to Safe Water for a Person in Need
You know just how important water is to a healthy body and a fulfilling life. As soon as you hit your first 60 rows, Hydrow will donate to Water.org in support of providing access to safe water and sanitation for someone in need – making you part of the solution as well.
Experience the Difference
Feel like you've joined a real crew rowing as one on the water, accompanied by stunning visuals from locations like Miami or the Charles River. Wherever you are on your fitness journey, you can count on Hydrow to help you get there.
Product Features
Ergonomic Design: Easy grip handle, comfortable seat, natural rowing form. Fits up to a 36" inseam, and up to 350 lbs.
Smooth Rowing Strokes: Industrial grade webbed connection improves the feel of the rowing, so it's smooth and efficient.
Touchscreen Monitor: Sweatproof 22" HD touchscreen monitor with HiFi speakers, embedded 2 megapixel camera, microphone, ANT+enabled, WiFi, Bluetooth, and USB 2.0 connection.
Quiet Resistance Mechanism: Your clients can clearly hear music and instructors without the interference of chain and fan noises typical to other machines.
Digital Adjustable Resistance: Duplicates the feel of a single scull, an 8 person boat, or a traditional rowing machine.
Commercial Grade Durability: Tested to last over 3,000,000 cycles. All components are commercial grade, including 10-roller smooth gliding seat.
Dimensions: Approx. 85″L x 25″W x 45″ H
Stored dimensions: 25"x 33" and 85″ high *Attachment needed for vertical storage
Hydrow Weight: Approx. 130 lbs.
Height limit: Fits up to a 36″ inseam
Weight limit: Holds up to 375 lbs.
Resistance Mechanism: Quiet, microprocessor-controlled resistance that adjusts 100 times per second
Seat: Ergonically designed seat w/ advanced cushion system
Seat Rollers: 10-roller system for a lifetime of extra smooth operation
Feet: Soft rubberized feet to protect floors from scratches
Monitor Pivot: Screen pivots 25 degrees in each direction for classes off the machine
Monitor Fold: Monitor folds flat for storage
Monitor Angle Adjustment: Monitor adjusts 15 degrees for the perfect viewing angle
Foot Stretcher Adjustment: Easy adjustment for correct foot placement
Seat Height: Designed for easy on-and-off
Handle: Ergonic design for low-stress grip
Handle Connection: High quality webbing for super smooth and quiet operation
Materials: Aluminum and steel frame with flat anthracite polymer body
Connections: Bluetooth & WiFi
Heart Rate Monitoring: Bluetooth and ANT+ enabled
Screen size: 22″
Screen resolution: 1920 x 1080 Full HD
Screen Touch Technology: PCAP
Screen Sweat and Dust Resistance: IP52
Speakers: Amplifier x2 channel, 3W, 8 ohms, front facing for immersive experience
Microphone: Included
Camera: 2 megapixel
Warranty
Frame & Mechanics: 5 years
Screen / Electronics: 2 years
Labor: 1 year