Precor Spinning® Indoor Cycles in Arizona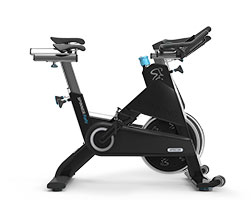 Precor Spinning® Indoor Cycles All-New Line of Spinner® Bike
The inventors of indoor cycling and the innovators of cardio bring you an all-new line of Spinner® bikes, designed to replicate the experience of your gym's Spinning® classes like never before – especially since they've been co-developed with Mad Dogg Athletics, Inc., creators of the Spinning® indoor cycling program and Spinner® line of bikes. These bikes feature the reliability and durability you expect from Precor, backed by more than 20 years of industry insights, education and programming from Spinning®.
The technologies in these bikes are designed to personalize the ride and improve the fit, feel, and longevity of every bike you purchase. Give yourself the riding experience you've always
dreamed of with equipment and programming built for long-lasting results.
Stop into any of Fitness 4 Home Superstore's 3 Valley Locations to experience the details of the entire Precor Spinner® Precor Indoor Cycles indoor group cycling line. Learn more at our stores in Scottsdale, Phoenix, or our I-10 Superstore in Arizona.