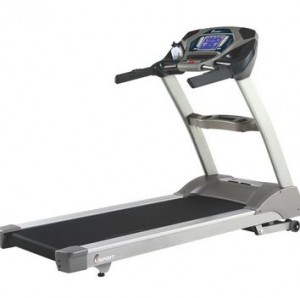 We have many great treadmills available here at Fitness 4 Home, but we know it can sometimes be tough to figure out which one would be best for you. It can also be a challenge to try and keep track of all of the particular features and options each particular machine can offer.
Go big for best results
The Spirit XT685 is all about going big with your workout, and taking your fitness routine to the next level. Compared with some other models in its class, it has larger diameter rollers and a wider belt. It also has a non-folding platform base that is designed to offer the stability and durability it needs in order to stand up to heavy usage, while also making this machine a great choice for both walkers and runners.
High-tech options
This machine is outfitted with an assortment of high-tech options that enhance your workout and make it easier for you to stay on track in the pursuit of your goals. The Heart Rate % Profile is a great tool that helps you monitor your heart rate and see where you are at any given time, in relation to your target heart rate. The 9-inch blue backlit LCD screen displays a variety of other interesting and useful data about your workout. A built-in program can walk you through a full-body workout, which you can complete in as little as 15 minutes.
The "quick keys" are very convenient, as they allow you to adjust the programming or select a certain speed or incline with the touch of a few buttons, so you don't have to interrupt your rhythm or bring your workout to a halt. Even better, there are remote adjustment buttons built into the handlebars, making it even more convenient to quickly adjust the settings.
In addition, the Spirit XT685 is also designed with user comfort in mind. There are six cushions distributed throughout various parts of the unit for ultimate comfort during your workout.
This is just one of the many great treadmills we have available. To learn more about all of the treadmill machines we can offer for your Phoenix area home, contact Fitness 4 Home Superstore today.