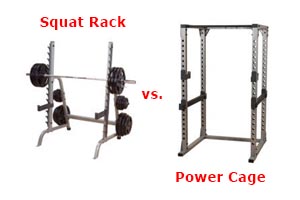 If you're building your home gym, you have the choice between two home gym essentials- a squat rack, or a power cage. But, what is a squat rack, and what is a power cage? Why do you need them? What are the differences between them? And what are the advantages and disadvantages of each?
First, recognize that your purchase of a squat rack or power cage, will be one of the most important purchases you make for your home gym. So, you want to look for equipment that has a history of stability, reliability, and safety. At Fitness 4 Home Superstore, we only carry the industry's top brands – so stop into one of our three Phoenix area locations to help get an idea of which brands are best to look for.
The popularity of squat racks and power cages owe to having a place to rack the bar for squats (the undisputed champion of weightlifting exercises), bench presses and any other exercise you might normally use a spotter for. Think of squat stack and power cages as a helpful workout station for barbell exercises.
A squat rack is designed to support weight when doing squat variations. Two adjustable metal posts comprise the squat stand or rack, which support the barbell. Positioning yourself under the bar, lifting it off the stands, stepping back, and squatting executes a standard squat. After the final rep, you step forward and replace the bar on the stands.
Unlike a squat rack, a power cage has four metal posts connected by horizontal framing and hooks or catchers, fixed to the vertical rods at various heights, designed to hold the bar. The added safety features allow you to confidently lift heavy when alone, and not worry about bailing on a rep.
Differences Between Squat Racks and Power Cages
Both types of strength equipment allow you to do the same movements. The biggest difference is how you do them.
Safety – In a squat rack, if you get stuck, you have to dump the bar to the floor. A power cage allows you to drop the bar onto the lower horizontal bars, rather than the floor.
Flexibility – On a squat rack, you can do squats and bench presses. A power cage allows you do not only do those two exercises, but dead-lifts, rows, pull-ups, chin ups, and more.
Size – A squat rack is a space saver design. A power cage takes up more room than a squat rack.
Stability – A squat rack isn't as stable as a power cage, especially for heavy lifts.
Price – Power cages usually cost more than squat racks.
So, if you're on a budget, limited space, and looking to do a limited number of weights – and the lifts you're doing are not requiring you to use heavy weights – a squat rack may be perfect for you. But, if you have the room, your workouts require extensive movements with heavy weights, and you're willing to pay a little more, a power rack is your best choice.