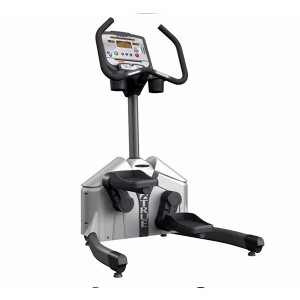 Lateral trainers are a newer type of cardio exercise workout – rather than moving in the usual linear movement that you're used to experiencing on treadmills, bikes, ellipticals, stairclimbers, your workout is a lateral movement – from side-to-side. Hence the name "lateral trainer." A recent study on the benefits of lateral trainers vs. elliptical trainers shows that lateral trainers had better results for 7 of 8 muscles studied, with 40% more glute activation and 23% faster achievement of targeted heart rates
TRUE Fitness has just recently introduced their new lateral trainer – the TRUE Traverse. The TRUE Traverse Lateral Trainer features a unique side-to-side motion – giving you a workout like you've never had before! ! The TRUE Traverse's side-to-side motion sculpts your core and lower body better than any elliptical or other cardio pieces on the market. With unique programming features, such as the Cardio 360 workout, you'll activate more muscle groups than on other cardio machines.
Unique Programming Options
The TRUE Traverse Lateral Trainer features unique programming that enhances your workout, with programatic functions that mimic real world workouts. As an example, you can activate more muscle groups than other cardio machines with the Skate and Ski workout program. With the TRUE Traverse, you'll be getting the most comprehensive workout available!
Heart Rate Control Technology
The TRUE Traverse Lateral Trainer includes with a digital heart rate monitoring system, as well as a Polar® wireless telemetry system, designed to help you maintain your optimum heart rate during your workout. One touch HRC Cruise ControlTM is also included, allowing you to lock into a specific heart rate during your workout.
Quality Engineering and Manufacturing
TRUE has been manufacturing quality fitness equipment for over 34 years, and the TRUE Traverse continues to build on that reputation of quality and craftsmanship. Experience high intensity training while achieving your fitness goals with the new TRUE Traverse!
Want to learn more about the TRUE Traverse Lateral Trainer? Stop into one of our three Phoenix-area locations in Scottsdale, Phoenix, and Chandler – and find out how you can supercharge your workouts with the TRUE Traverse!