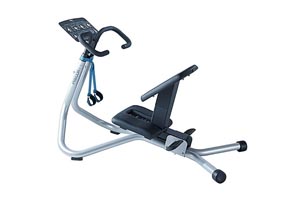 Whether you're looking to improve your pre-and-post workout stretching program, or your looking improve your mobility with an at-home stretching program, the Precor 240i Stretch Trainer is the perfect choice!
The Precor 240i Trainer helps you complete an effective stretching regimen in only 10 minutes – all while seated comfortably. An integrated instructional placard shows you eight essential stretches to target key muscle groups – lower back, hamstrings, gluteal/hips, hips/legs/back, inner thighs/groin, upper back, shoulders and quadriceps.
Improve flexibility, coordination and overall athletic performance by stretching daily with the Precor 240i Stretch Trainer, whether before or after a workout or as a start to your day in motion.
The Precor 240i Trainer allows you to hit those hard to get to muscles groups after your intense cardio or strength workout. This is the same stretch trainer you find at many gyms around the country.
Stop into any of Fitness 4 Home Superstore's three Phoenix locations, and experience the Precor 240i Stretch Trainer today!