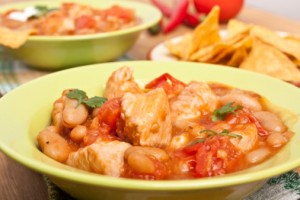 Who says you have to wait until Thanksgiving to enjoy a delicious turkey-based meal? This turkey chili is tasty, and great to enjoy on a chilly fall day. It only takes about 20 minutes to prepare. Plus, it's versatile—you can eat it straight out of a bowl, put it on bread for a sandwich or even use it on top of a bed of rice or vegetables to create a more hearty and filling meal.
Ingredients:
1 (3 1/2-ounce) bag boil-in-bag long-grain rice
1 tablespoon vegetable oil
1 cup chopped onion
3/4 cup chopped green bell pepper
1/2 pound ground turkey breast
1 tablespoon chili powder
1 teaspoon Worcestershire sauce
1/2 teaspoon ground cumin
1/2 teaspoon dried oregano
1/4 teaspoon salt
1/4 teaspoon black pepper
1 (15-ounce) can kidney beans, rinsed and drained
1 (14.5-ounce) can Mexican-style stewed tomatoes with jalapeño peppers and spices, undrained
1 (5.5-ounce) can tomato juice
1/4 cup (1 ounce) preshredded reduced-fat cheddar cheese
Directions:
Cook rice according to package directions, omitting salt and fat.
While rice cooks, heat oil in a large nonstick skillet over medium-high heat.
Add onion, bell pepper, and turkey, and cook 3 minutes or until done, stirring to crumble.
Stir in chili powder and the next 8 ingredients (chili powder through tomato juice); bring to a boil.
Cover, reduce heat, and simmer 10 minutes. Serve over rice, and sprinkle with cheese.
This great turkey chili has 380 calories per serving and 21.4g of protein.
You can work off this turkey chili and all of your other meals this month with some great fitness equipment. To pick out the right home cardio equipment for your Phoenix area home, contact Fitness 4 Home Superstore.