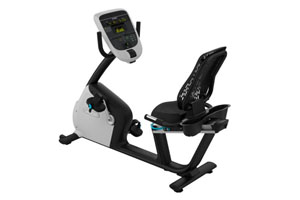 We have many great exercise bikes available here at Fitness 4 Home, but we know it can sometimes be tough to figure out which one would be best for you. It can also be a challenge to try and keep track of all of the different features and options each particular bike can offer. So we thought it would be helpful if we occasionally spotlight a specific bike and tell you a bit more about why it might be the perfect choice for you. This month, we are spotlighting the Precor RBK835.
Elite design and features
The Precor RBK835 is a high-end bike for people who are serious about their workout. This is a top-of-the-line machine with all of the extras and desirable features you would expect from a bike at this level. It is virtually identical to the model used by upscale commercial gyms worldwide. Its biomechanically engineered design allows for super smooth pedaling, and the step-through configuration provides safe and easy access.  The extra wide pedals further enhance comfort and versatility. These features also make this bike a great choice for multiple users of varying abilities and physical conditioning.
High-tech features and controls
This exercise bike also features a range of helpful tech options to enhance your workout and give you the ultimate insight into your progress. The console integrates intuitive motion controls for smooth adjustments, and the LED display gives your immediate access to all of your important data updates. This lets you monitor your results and continually track your progress, so you can see exactly how much improvement you are achieving.
This is just one of the many great exercise bikes we have available. To learn more about all of the cardio equipment we can offer for your Phoenix area home, contact Fitness 4 Home Superstore.