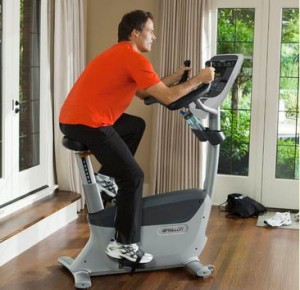 We have many great exercise bikes available here at Fitness 4 Home, but we know it can sometimes be tough to figure out which one would be best for you. It can also be a challenge to try and keep track of all of the different features and options each particular bike can offer. So we thought it would be helpful if we occasionally spotlight a specific bike and tell you a bit more about why it might be the perfect choice for you. This month, we are spotlighting the Precor UBK 835.
A category leader
The Precor UBK835 is among our top of the line upright bike models, and that means you can expect all of the best and newest features available for a bike at this level. At the same time, you won't be paying for fancy bells and whistles that may look nice but don't provide any useful purpose. All of the features on this bike are there for a reason, which in most cases is to support the user for a comfortable experience that helps them achieve their fitness goals.
Design based on science
This bike has been designed after careful planning and in-depth research, which identified the best biomechanical design tactics for safety, comfort and efficiency. It has a redesigned saddle for a comfortable ride, and enhanced knee over pedal spindle (KOPS) arrangement for a smooth and efficient rhythm. The new over-molded handlebar design offers three riding position choices, and the handlebars are also equipped with touch heart rate sensors to allow for constant monitoring. From the pedals to the handlebars and everything in between, every aspect of this bike is assembled with ergonomics as a guiding element. This not only makes for a more effective and comfortable workout, but also helps the user avoid injury or soreness that may derail their workout routine.
The design is based on a foundation of high-quality, dependable materials. This bike is constructed from hardened steel and commercial-grade materials that can withstand demanding usage and deliver a long lifespan with minimal service needed.
For more information about obtaining a Precor UBK 835 or any other fitness equipment for your Phoenix area home, contact Fitness 4 Home Superstore today.